Mother Shailputri, also known as Goddess Shailputri, is the first among the nine forms of Goddess Durga. She is worshiped on the first day of the Navratri festival, which is celebrated all across India with great enthusiasm and devotion. The word 'Shailputri' is derived from two words, 'Shail' meaning mountain, and 'Putri' meaning daughter. Thus, she is known as the daughter of the mountains.
According to Hindu mythology, Mother Shailputri is believed to be the reincarnation of Sati, the first wife of Lord Shiva. Sati had immolated herself in the holy fire as she could not bear the humiliation meted out to her husband by her own father, King Daksha. After Sati's death, Lord Shiva became detached from the world, and his anger manifested in the form of Veerabhadra, who destroyed King Daksha's yajna.
To pacify Lord Shiva, the Gods created a new body for Sati, which was found in the Himalayan mountains. This new form was named Shailputri, and she married Lord Shiva. She is depicted as a beautiful woman riding on a bull, with a trident in her right hand and a lotus flower in her left hand. The bull is believed to be her vehicle, which represents dharma, strength, and stability.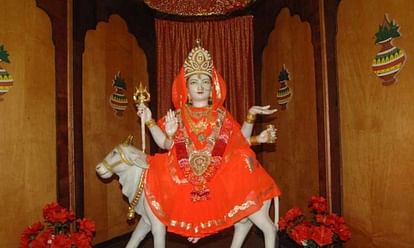 Mother Shailputri is also associated with the Muladhara chakra, which is located at the base of the spine. This chakra is associated with the element of earth, and it represents stability, grounding, and the physical body. It is believed that by worshiping Mother Shailputri, one can activate and balance the Muladhara chakra, which can bring stability and balance to one's life.
During Navratri, devotees worship Mother Shailputri with great devotion and offer her flowers, fruits, and sweets. They also perform various rituals, such as fasting and reciting mantras, to seek her blessings. It is believed that by worshiping her, one can overcome all obstacles and attain success in life.
Her worship during Navratri is believed to bring peace, prosperity, and happiness to the devotees. On the first day of Navratri, devotees offer special prayers and perform puja to seek the blessings of Maa Shailputri. It is also believed that worshipping Maa Shailputri can help in overcoming physical and mental ailments, and provide strength and courage to face life's challenges.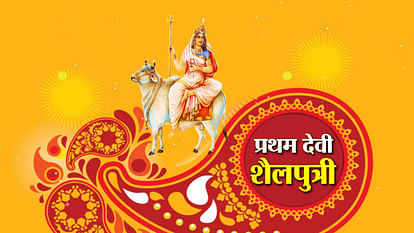 Apart from Navratri, Maa Shailputri is also worshipped on various occasions, such as weddings, childbirth, and housewarming ceremonies. She is considered to be the nurturer of the universe and the provider of abundance and blessings.
In conclusion, Maa Shailputri is an embodiment of strength, beauty, and divine power. Her worship helps us connect with nature and seek the blessings of the divine feminine. Her grace can help us overcome obstacles and lead a life filled with peace and prosperity.
---