Akshay Tritiya is a special day in the Hindu calendar that is celebrated every year during the month of Vaishakha (April-May) on the third lunar day (Tithi). This day is considered to be extremely auspicious for starting new ventures, making investments, and purchasing gold or other precious items. In fact, Akshay Tritiya is often referred to as the "Day of Infinite Blessings."
The word "Akshay" means "infinite" or "never-ending," while "Tritiya" means "third." Thus, Akshay Tritiya is a day that is associated with never-ending prosperity and good fortune.
The origins of Akshay Tritiya can be traced back to ancient Hindu texts such as the Mahabharata and the Puranas. According to these texts, this day marks the beginning of the Treta Yuga, one of the four ages or cycles of time in Hinduism. It is believed that on this day, Lord Vishnu, the preserver of the universe, incarnated as Parashurama, a warrior sage who rid the earth of evil kings and restored order and justice
In addition to its mythological significance, Akshay Tritiya is also associated with the agricultural cycle in India. This day marks the beginning of the wheat harvest in many parts of the country, and farmers offer prayers and perform rituals to seek blessings for a bountiful harvest.
Celebrations on Akshay Tritiya typically involve the worship of Lord Vishnu, Lakshmi (the goddess of wealth and prosperity), and Kubera (the god of wealth). People also visit temples, make donations to the poor, and perform charity work on this day. Many households also perform puja (worship) at home and offer prayers for success and prosperity in their lives.
One of the most popular traditions associated with Akshay Tritiya is the purchase of gold or other precious items. It is believed that buying gold on this day brings good luck and prosperity throughout the year. Many jewelry stores and retailers offer special discounts and promotions on Akshay Tritiya, and people flock to buy gold coins, jewelry, and other items.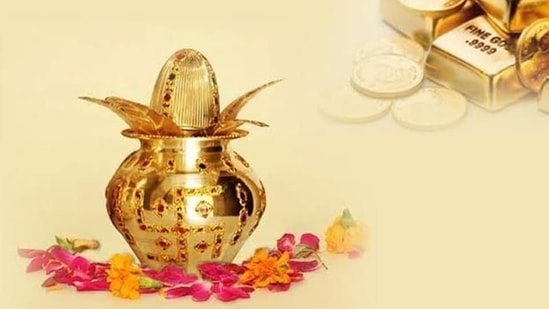 Akshay Tritiya is a day that is filled with positivity, hope, and blessings. It is a time to reflect on our goals and aspirations and to take steps toward achieving them. Whether it is starting a new business, making an investment, or simply seeking blessings for a happy and prosperous life, Akshay Tritiya is a day that inspires us to pursue our dreams with passion and determination.
---